Teachers Training
Teachers Training
INTRODUCTION
Parents,
the most important personalities of human being. Every child in this world, are completely dependent on his Mother and Father's umbrella for physical nurturing and growth.
Parents do the best efforts to make their child the successful person in the life. They are responsible for providing food and shelter, maintaining good health and resources to acquire the best education.
Teachers, on the other hand, play a vital role in parallel with parents. Teachers are responsible for brain nurturing of the student by virtue of his confidence building, skills set development, creativity exploration, knowledge empowering and sharing experiences.
Taleemi-Hub, introduced Teachers and Parents Training Services Center, aims to support Parents and Teachers with rapid changes brought about by modernization. The topics include creativity, critical thinking, problem-solving, decision making, the ability to communicate and collaborate along with personal and social responsibility that contribute to become both a good citizen as well as successful person. Taleemi-Hub, training equips people with the social and interpersonal skills that enable them to meet the challenges of daily life in an effective way.
Taleemi-Hub, skills approach aims at assisting children to gain new ways of learning as well as control over their behaviour and to take informed decisions that can lead to gain positive values in life.
Taleemi-Hub, collaborates with highly professional, vast experienced and skilled trainers, for the training and development of teachers and parents. On the basis of research insights, Taleemi-Hub, offering customized / tailor made training programs that would surely cope up challenges faced in daily life.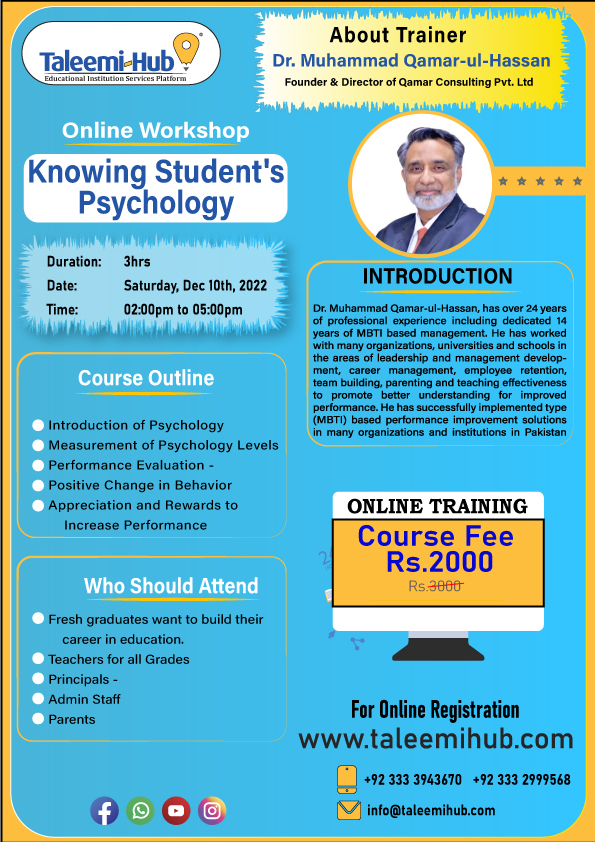 ---