Introduction:
Winter Land, the first ever Ice-recreational amusement center established in Pakistan, offers a high value entertainment with incredible fun activities to its customers. An adventurous unique experience at -10% Celsius in PAF museum in the heart of Karachi city. At Winer Land, all the family members specially children are much crazy about to visit and enjoying with freeze ice at -10%.
Taleemi-Hub, an educational services platform (taleemihub.com) is feeling very honored to announce collaboration with Winter Land amusement center.
The purpose of this joint collaboration is to facilitate educational institutions, specially schools, colleges and universities with economical and convenient excess to Winter Land.
Now, schools can avail special discounts on Winter Land tickets through booking from Taleemi-Hub.
So, Be hurry and book your BURFAANI TRIP tickets by clicking taleemihub.com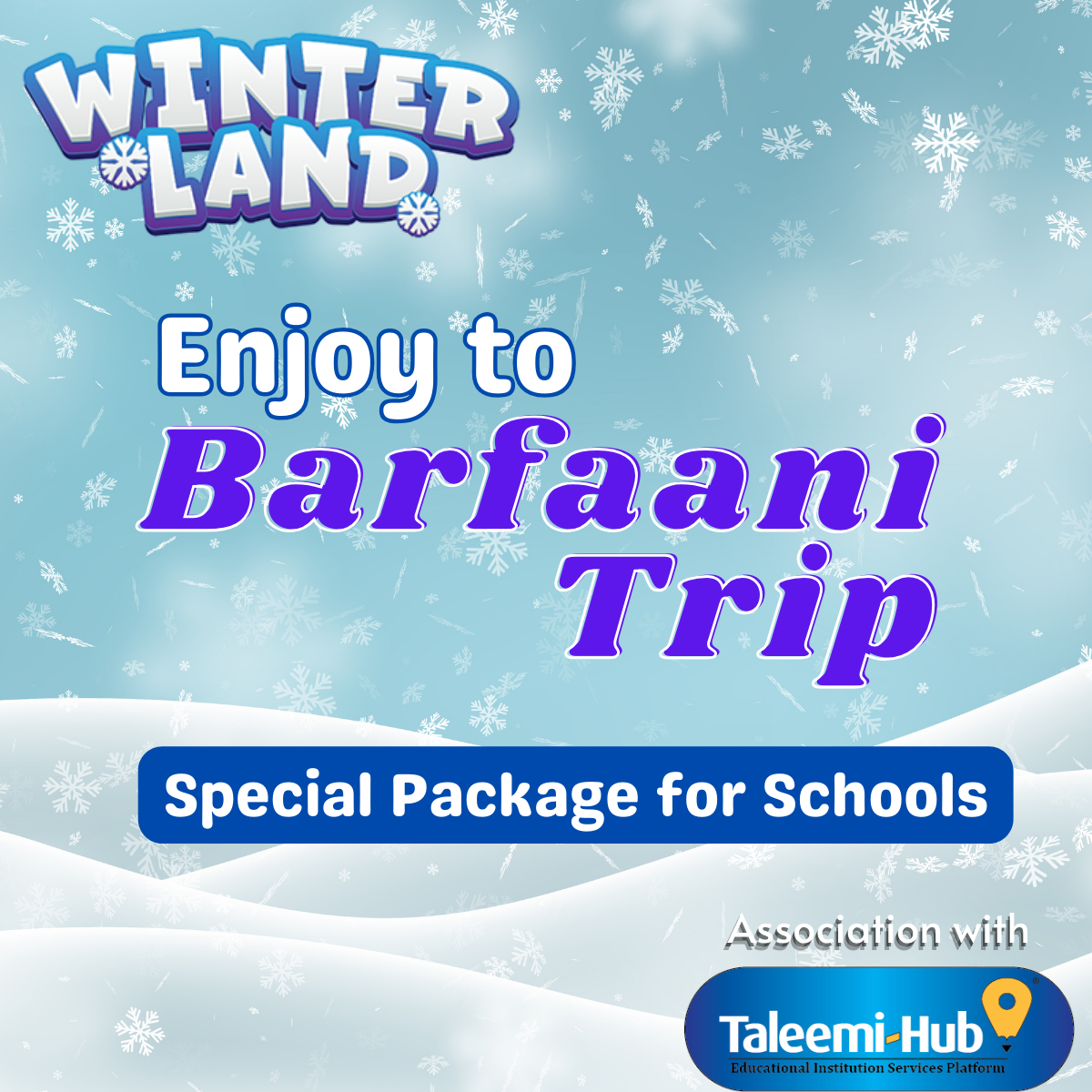 For Schools / Educational Institutions
Advance booking registration 2 weeks prior to the visit
Minimum head counts will be 150+, one time combine entry
Visit Timings between 9am till 12noon –
There is no fixed discount, it may vary on the basis head counts, the more visitors – the more discount may offer
100% payment to be made 3 days prior to the visit.
Payment to be made through cheque in favor of Winter Land or account transfer- NO CASH TRANSACTION IS ALLOWED.
Winterland ticket holders are subject to the following Terms & Conditions:
Admission ticket permits admission for one individual only
Children below 2 years are exempted from ticket charges & must be accompanied by a guardian
Weekends are only for families.
Report 10 minutes prior to the session at Booking Office
Jackets with hood and Gloves will be provided with the purchase of ticket
All accessories are not of accurate sizes and are subject to availability
The following articles are strictly prohibited: Eatables (Including Gutkha, Pan-Masala, Chewing Gum, Chocolate, Chips), Knife, and Cigarette, Lighter, Match-Box, Firearms and all kind of inflammable objects.
Winterland will not be responsible for any loss, theft or any damage of any of your valuables
Total duration of snow room is 60 minutes
Rights of management are reserved by the management of Winterland
Winterland may take photographs or recordings of any visitor for any purpose, without prior approval or compensation
The ticket must be in your possession during entire session. Management reserves the rights to deny entry if you are unable to provide a valid ticket for the show
WinterLand ticket holders are subject to the following Safety Rules:
It is compulsory to wear long pants and socks to stay warm in subzero temperature
It is advised not to enter snow chamber in case of; pregnancy, suffering from any medical problems, cold, allergy or feeling sick or dizzy
First Aid Service is available on request or emergency
(While every reasonable effort has been made to ensure your safety and comfort, the management won't be liable for any injuries caused)
Once purchased, tickets will not be returned, cancelled or refunded
Management won't be responsible for any compensation or refund if the session mentioned on the ticket is not attended
If, for any reason, the session is not exhibited on the mentioned date and time on the ticket then you will be entitled to obtain a refund or exchange as per availability